QuickBooks for Churches
Accounting Software for Small Churches and Nonprofits

I love QuickBooks (QB)! I use it for my small business and it does everything I need and more.
I have set up churches in QB and have found it works well for them as well...with a little adjustments.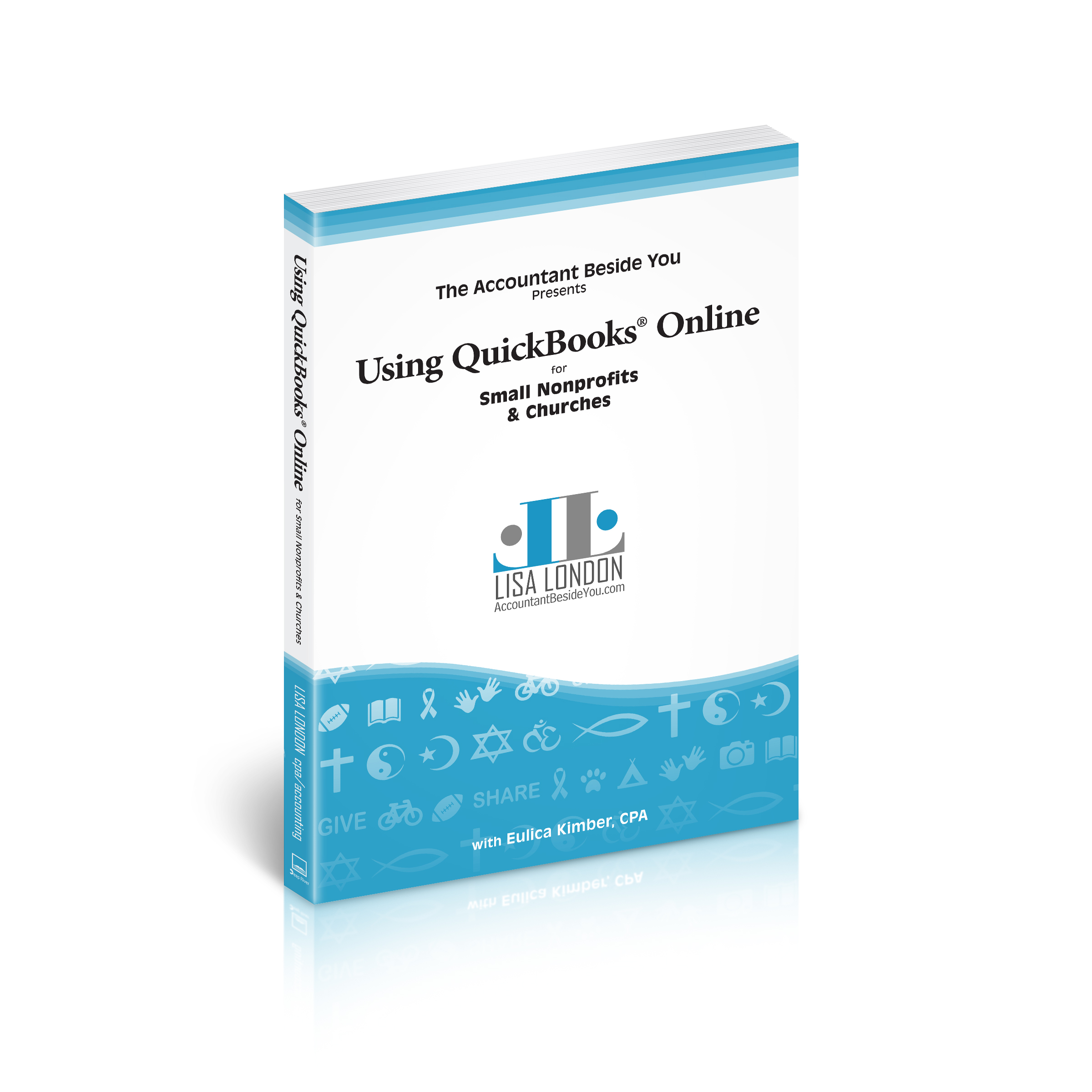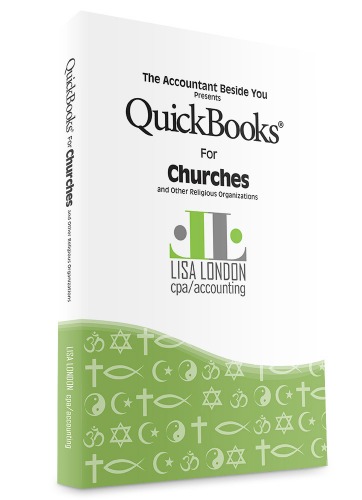 A must have for everyone that has or is thinking of running QuickBooks for their church. Walks you through QuickBooks from start to finish, complete with examples, terminology, and everything a busy church administrator or bookkeeper needs to know.
For the Desktop QB: Click here for more details!
For QuickBooks Online (QBO): Click here for more details!
~Attention: Use Coupon Code: "FCA" for a 10% Discount!

Using  QuickBooks for Churches and Nonprofits: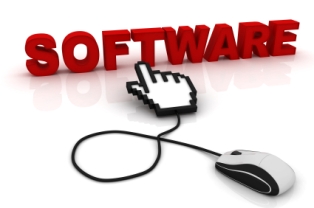 Let me lay a little ground work here first...
If you are a start up church or a small church...without many assets and liabilities...
single entry bookkeeping...such as my accounting spreadsheets may work for fine for you.
However, double entry bookkeeping is always the best option...if possible. See this page on basic accounting for the difference between single and double entry bookkeeping.
For those who do have it in their budget for accounting software, I recommend doing some extensive research before choosing your software.
See this page for some tips to help you decide which software is the best accounting software for your church or nonprofit.
Free QuickBooks® Software
Intuit has a great offer for eligible charities, including American churches! See more on this Quickbooks Offer.

Like I stated above...I have set up several churches in the desktop and online version of QuickBooks and like the extensive reporting capabilities among other things with the software. 

Here is some of the things I have discovered while working with this accounting software.
QB is best for small churches and non-profit organizations with operating budgets of less than $1 million, that have different grants and/or funds that need to be tracked separately, and that have small payrolls.
Features I like with QuickBooks:
Less expensive

QB Centers along with icons make it easy to access frequently used functions.
Can password protect it.
Handles bills, payments, and bank reconciliation easily.
Computes and processes payroll and its taxes...for an additional cost.

Prints Checks
Compatible with Microsoft Office (Word, Excel, Outlook, etc)
Features I dislike with QuickBooks:

It is built for "for-profits"! So...it not set up properly for fund accounting...it can turn into a nightmare!
If you are going to use QuickBooks Pro or QuickBooks Online to its fullest potential do one of these 2:
Order and faithfully follow Lisa London's instructions in her How To books for QuickBooks. See more information on those books on this page.


Or hire someone familiar with setting up QB or QBO for churches and can train you how to use it effectively. See more information on my Set Up and Training services.
Features I like about the Premier Nonprofit Edition:
Tracking donors and contributions
Creating personalized letters and envelopes for donors
Tracking budgets and finances by program
Preparing IRS Form 990 or Form 990-EZ
Creating other reports specifically for non-profits
Can create a Statement of Financial Position (Balance Sheet) by class (funds)

Features I dislike about the Premier Nonprofit Edition:

It's expensive
Non-accountants can be confused with QB terminology, with donations recorded as sales receipts, and pledges booked as invoices.

In a nutshell, I believe QB can be an affordable option for many small churches and nonprofits. Once it is set up PROPERLY -- volunteers with little or no accounting knowledge can easily use it.

The difficult part is setting it up correctly. If your church can afford it, I highly recommend using someone (like me=) that is very familiar in church or nonprofit accounting to set it up for you AND train you how to use it effectively. That way it will be done correctly and saves possible headaches down the road. 
However, if hiring someone to set up your QB or QBO is not an option due to a limited budget. There is still a way for you to set it up and enjoy all the benefits of this very effective accounting software.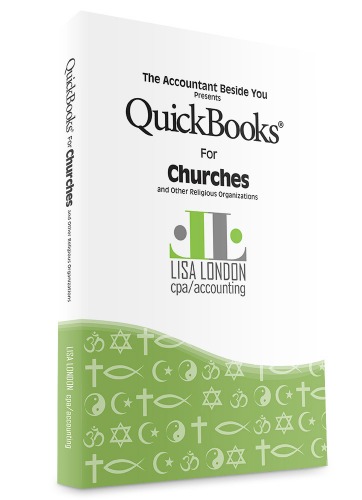 Purchase Lisa London's QuickBooks for Churches. Lisa is a CPA and has written this book that is a must for anyone setting up or even maintaining a QuickBooks file for churches.
Lisa will walk you through DESKTOP QB from start to finish, complete with examples, terminology, and everything a busy church administrator or bookkeeper needs to know.
The book is written for beginner and advanced church bookkeepers alike, in a friendly and easy-to-understand style. It includes:

Step-by-step instructions on how to set up QB and utilize it more efficiently for your church

Valuable tips on how to make QB work better for churches, both large and small   
Numerous illustrative screenshots and time-saving shortcuts
QuickBooks Online® for Churches and Not-for-Profit Organizations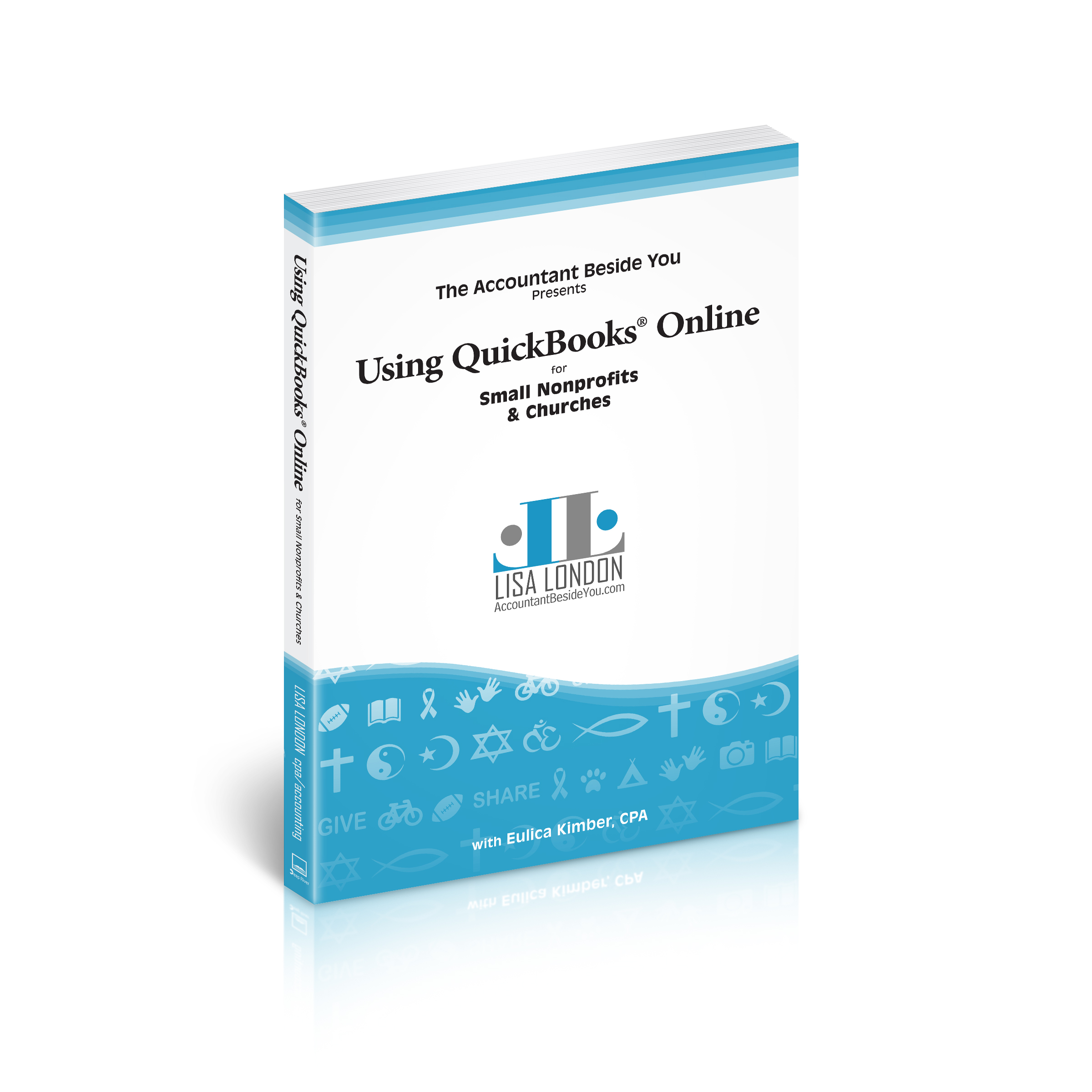 This book contains hundreds of screenshots that helps you set up and use QuickBooks Online (QBO) effectively.  
Topics include:
Procedures to guard against theft and errors
Designing a chart of accounts (with examples for different types of nonprofits in the appendix)
Converting a desktop QuickBooks organization into QBO
Tracking donor gifts and grants
Importing donor and vendor contact information
Receiving money, paying bills, and tracking credit card charges
Reconciling accounts
Budgeting
Designing management reports
Month-end and Year-end procedures
Tracking fundraisers, in-kind donations, volunteer hours
And so much more!
Click to read more on this great resource book!
Note: FreeChurchAccounting readers can enjoy a 10% discount by using the code: "FCA" on all FreeChurchAccounting products and Accountant Beside You products!

QuickBooks for Nonprofits available: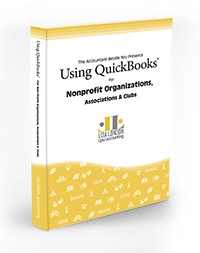 Lisa has now written a book just for setting up and using QuickBooks for nonprofits.
Using QuickBooks® for Nonprofit Organizations, Associations & Clubs shows the reader how to set up and use QB in a nonprofit environment.

Geared toward people with or without QB experience.

Not only does Lisa take you through how to set up QB and utilize it more efficiently for your organization, but she also covers everything you need to know to implement controls and procedures to ensure that your money is always protected.

The step-by-step instructions and hundreds of screen shots explain how to:

Manage member dues, fundraisers, and trips
Track grants and contracts
Allocate overhead to programs & grants
Set up internal accounting controls to protect the money
Customize forms
Track volunteer hours
and much more.
Using QuickBook for Nonprofit Organizations, Associations, & Clubs includes sample charts of accounts for associations, PTAs, private schools, scouting troops, and civic groups.
Comments...
Enter your title of your tip, idea, comment, or question in the text box below.
Keep the title as short as possible, but interesting enough to make people want to click on your title.

Then click on the link below it that says: Click here to see the rest of the form and complete your submission.
Write your post.  Elaborate and give all the details necessary to properly convey your meaning or question,
Please be aware that with my Bookkeeping company, building and maintaining web sites, and my volunteer work at my church, I cannot possibly answer and comment on every submission.
However, your opinions, questions, and comments are very valuable to me...so I will try to answer questions when I can, but I am relying on the goodness of others to help here:)
Important! Comments used to go live without my approval. I would have liked to keep it this way, but there are some that take advantage of that. As a result of their blatant disregard of my request to stop posting their spam on this site... I now must approve comments first. I apologize for this inconvenience and will post your comments asap.

Note:  Please use site search before posting a question. This site has over 1500 pages, so your question may have been asked and answered already. Google has also started penalizing me for duplicate content so I can no longer post questions that have already been posted.

QuickBooks
Do you have a question or comment regarding using QuickBooks? Share it!
Archive of QuickBooks Questions and Comments
The following comments, tips, and Q/A were provided by FreeChurchAccounting's generous readers:
The comments above are for general information purposes only and do not constitute legal or other professional advice on any subject matter. See full disclaimer.