Are You Feeling Overwhelmed?
Need help doing the accounting for your church or nonprofit?
You are at the right place!
This site and the topics covered (see below) will help you take out the mystery and bust the myths of Church accounting and nonprofit accounting. The materials are based on accounting best practices, facts and federal tax codes that are specific to small churches and nonprofit organizations.
NOTE: To search for something on this site, please use the search box on this page: Site Search or review the Sitemap
Two things many small churches and nonprofits have in common is volunteer help and frequent turnovers. So it is so important to have an accounting system set up that is simple to learn and use!
Aplos was designed by a CPA/Executive Pastor so each section of the software was made with a non-accountant in mind so it's simple to manage you organization's accounting even if you don't have any accounting experience!
 See my review on the user-friendly fund accounting software: Aplos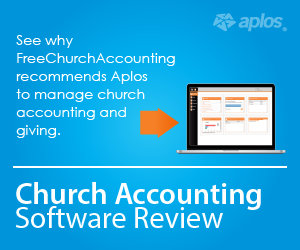 Stay up to date on nonprofit and church accounting news! Sign up for my free monthly newsletter and receive tips, news, free spreadsheets AND a special thank you discount code for the Church Accounting Package: 
Topics Covered on this Site:
This site is a great place to start for those with little or no accounting knowledge and for those with experience who may want a refresher as finance laws continue to change.

Whatever experience you have, the congregation expects the treasurer to "take care" of the finances of the church. But many churches are not aware of the complex finance issues, what actions need to occur to be compliant and documentation needed to lessen liability for the church and protect its' congregation, pastor and staff.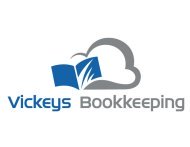 Need help setting up an effective accounting system!
Overwhelmed with the accounting part of your ministry?
Have a high turnover of individuals keeping the books?
Hiring a full time in-house bookkeeper not affordable or even a possibility at this time?
Let us take care of your books! 
We can also set up an accounting system and train you how to use!

Built From Real Experience:
Many years ago to assist our church's secretary, I created easy to use accounting workbooks and spreadsheets. She loved them and told several other church secretaries and treasurers about them. They got hold of me and asked if they could use them for their churches. They also wanted additional pointers on setting up a good accounting system and other church accounting issues.

Even with a seasoned accounting background...church and nonprofit accounting was different from commercial accounting and sadly there wasn't much on the internet about the basics of church accounting at that time. And this site was born. It gave me an opportunity to share my knowledge of church and nonprofit accounting, resources, tools and my accounting spreadsheets as well. Who would have ever imagined this site would expand to include a 1500 pages, reader posts and comments!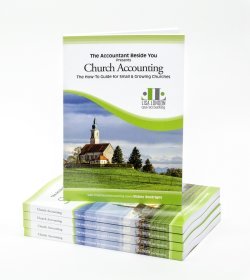 This soft cover book covers a vast area of church and minister tax issues such as:
Policy and Procedure Guidelines
Internal Controls
Building a Chart of Accounts for a Church
Receiving and Recording Contributions
Church Payroll
Ministers and the IRS
Church By-Laws
Free Accounting Software: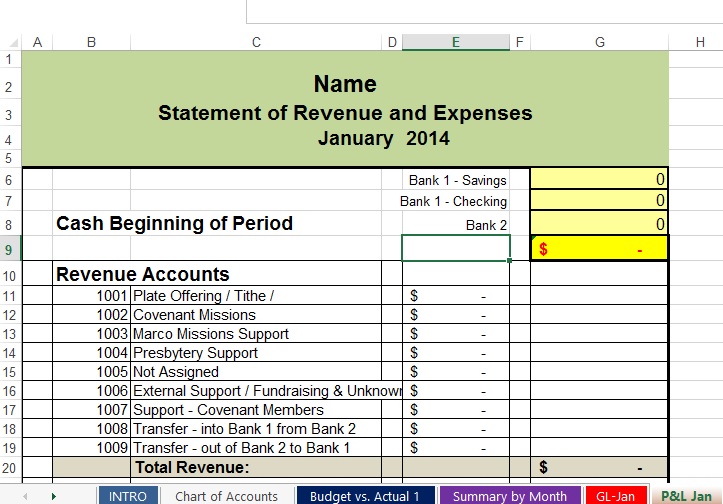 The nonprofit accounting spreadsheets offered free on this site are easy to use and work well for small or start up churches or nonprofits. However, please be aware that they are they are a single entry bookkeeping system (see the difference between single and double entry systems), they cannot track your assets and liabilities and cannot generate a balance sheet. A Balance Sheet has to be created separately using a template like the one found at the bottom of this page: Balance Sheet Example

If you have a large chart of accounts, need to track assets and liabilities, have multiple funds to track, please consider using a full bodied double entry accounting system built especially for churches such as Aplos. See my Aplos review!

In the past, there was a requirement in place to sign up for this site's free newsletter, so you could be notified of any errors or updates to the accounting workbooks. That is not the case now and there is a direct link to download the free accounting spreadsheets on this page:

Free Accounting Spreadsheets


Highly Recommended Resource:

Total Fitness for your Church
Why does the world need another book about church health?
One of the reasons that the Church is not experiencing a greater missional effectiveness is because so many churches are dysfunctional in one way or another. The generally accepted statistic is that 80% of American churches are plateaued or in decline. If that statistic is any where near true it means that 8 out of every 10 churches are not, cannot or should not multiply. 
The idea that many churches need to be intentional about becoming more missionally healthy is no surprise. A whole category of resources has sprung up around this idea. Books, seminars, podcasts, etc. are all available to help churches move toward health. A growing number of consultants are available and frankly, they are usually worth every penny- if your church can afford them.
Therein lies the challenge. A lot of churches in need of rejuvenation are so financially strapped that hiring a consultant to help them move toward health is not an option for them to consider.
On the other hand, many of the excellent church health resources currently available are focused on one dimension of church health- how to close the back door, how to have great small groups, how to have effective intercessory prayer, etc. These are all crucial components of church health but it is completely possible to close the back door, have great small groups and pray without ceasing and still have a church that is not healthy. 
"Total Fitness for your Church" is designed to overcome the obstacles of cost and provide a comprehensive framework to help you lead your church toward optimum health. It's designed to be a consultant in a book. So instead of spending thousands of dollars you don't have on a consultant, you can buy a book and discover the way forward for yourself. You and your leadership team can work through the book together, diagnose the aspects of church life that need attention, write an informed prescription for moving toward holistic health and formulate an action plan to put the prescription into action. All for the cost of the book. 
Now, I do believe you can put it on steroids if you find an outside coach to coach you through the process. And a good consultant will view the book as a great tool for helping you find your way forward. But if your budget is just too tight to consider either a coach or a consultant, you can get a good start by just investing in the book and working through it with your team. 
When your church moves toward health, one of the evidences of health is that you will begin to multiply. Not next week. Probably not next year. But sometime down the line, you will begin to reproduce. And the presence of the Church will expand among people and places where the Church is rare.
That's why I wrote the book. I hope you buy a copy. Read it yourself. Read it with your team. Work through it with your team. Write your health prescription. And turn the prescription into reality. You can purchase it from Christian Smart Resources: Total Fitness for Your Church
Steve Pike: Author, Successful Church Planter, Pastor, Church Consultant, and National Church Planting Leader
Oct 15, 17 06:17 PM

How the Wisconsin housing allowance court ruling will effect churches and ministers across the United States.

Oct 13, 17 05:01 PM

Our church provides our pastor with a parsonage and utilities, free if charge. He is also paid a salary per week. He wants to have all of his salary

Oct 10, 17 08:05 AM

I am currently living in a small apartment, and plan on moving into a mobile home that has an extra bed room that will be used as an office. Would I