Church Finances: How To Books
The How-To Guide for Small & Growing Churches
Available in a Softcover Book or Digital eBook
Click on image above for more details.

Need a "all in one" book on church finances, contributions, and payrolls?
Church accounting and payrolls are so different than for-profit organizations that even if you had prior bookkeeping or accounting skills, you need a resource to help you navigate the new waters!
Even if you have been handling the church finances for many years, you may need a little help ensuring that you are doing everything correctly.
So I am pleased and honored to announce a very special collaboration between myself (the author of this site and all of the church accounting ebooks on this site)  and Lisa London (CPA and author of the "Accountant Beside You" book series)
We have written a book together that is getting rave reviews from beginners and experienced church administrators alike!
Church Accounting: The How-To Guide for Small & Growing Churches will answers many those questions that plague many church bookkeepers and treasurers such as how to:
pay your minister
handle contributions
handle a payroll for a church
set up a housing allowance
handle benevolence funds
budget and forecast
prepare an annual audit
reimburse employees per IRS guidelines

plus much more!
Consider bundling the How to Guide and with other Accountant Beside You products such as QuickBooks for Churches (see details below) for discount prices.
Note: You can use the code FCA and save an additional 10% 

Here is what readers are saying about the How to Guide...
"The information in the Church Accounting: How-To Guide answered so many questions for us as we set up a new non profit. It is written in language that non accounting people can understand. Very practical and logical"                                                                                
Cherri Pike - Urban Islands Project

Bundle with other Accountant Beside You products and Save...

Click on the images above for more details.

Lisa London, is joined by CPA Eulica Kimber in this latest book in the Accountant Beside You series to explain how to set up a nonprofit organization in the online QuickBooks® program, QBO®.
Together they explain how to set up and effectively utilize QuickBooks Online In a reader-friendly and engaging style and aided by hundreds of screen shots, they
Using QuickBooks Online for Small Nonprofits and Churches topics include:
Sample chart of accounts
How to track donor gifts and grants
Budgets and management reports
Plus much much more..
Bundle it with my How To book and not only save money, but have the resources at your fingertips to set up and maintain an effective accounting system, handle contributions, ensure your minister's compensation is set up correctly, and much more!
Here is what another satisfied customer said about the How to Guide...
"The Church Accounting book is a must have for all preachers and church staff. The information and format is helping and interesting all at the same time. This is by far the most informative book I've ran across. It should be standard reading material for the deacons, secretary, preachers, and all the church volunteers"
James Page - Joy In Life Ministries
Attention: Use Coupon Code: "FCA" for 10% discount on all Accountant Beside You products!
Church Finances Bundle!

This bundle includes...
Church Accounting: How To Guide covers a vast amount of church accounting topics. It also devotes a whole section of the book to payroll for churches. It covers payroll terminology and forms and then takes you through the steps necessary to set up a payroll, calculate and file the necessary taxes and forms, and even details how to handle the minister's payroll. Payroll and wage reporting is a problem area for many small church administrators. See how to set it up, administer, and report you pastor and staff's compensation correctly... 
QuickBooks For Churches is a must have resource if you currently use or ever plan on using Quickbooks® to track your church finances and donations! Walks you through QuickBooks Desktop from start to finish. Written for beginner and advanced church bookkeepers alike, in a friendly and easy-to-understand style.
QuickBooks for Nonprofits!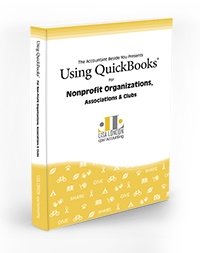 Click on image above for more details.

Lisa puts over two decades of accounting experience and nonprofit volunteer work into practice in order to guide you through each stage of the process in great detail. This book will equip you with everything that you need to know about setting up QuickBooks, logging volunteer hours, managing membership fees, tracking grant dollars, allocating overheads to a project, and so much more. Hundreds of detailed screenshots coupled with Lisa's friendly and accessible style of writing makes the whole process easy to follow.
Sample chart of accounts, item lists, and other resources specific to  PTA, Boy and Girl Scout Troop, or civic groups will help you easily learn what tools will be most beneficial to your own group. Also included is a simplified UCOA (Uniform Chart of Accounts) and a chart of accounts customized for associations.
Here is what a customer said about the book:
"I am really enjoying your and Lisa London's book along with your wisdom at freechurchaccounting.com.  Lots of knowledge to be gained.  I will definitely be spreading the word along about you two ".
Julie Possee