Are You Feeling Overwhelmed?
Need help doing the accounting for your church or nonprofit?
You are at the right place!
This site and the topics covered (see below) will help you take out the mystery and bust the myths of Church accounting and nonprofit accounting. The materials are based on accounting best practices, facts and federal tax codes that are specific to small churches and nonprofit organizations.

Jon Gelwix, an HRA expert with PeopleKeep and I have teamed up to provide you with a free webinar on some new, tax-free healthcare benefit options for your church or nonprofit organization.
Join us Wed, Feb 26, 2020 9:00 AM - 9:45 AM MST by clicking the register button below. If you are unable to attend, go ahead and register and we will send you a recording of the webinar.
Two things many small churches and nonprofits have in common is volunteer help and frequent turnovers. So it is so important to have an accounting system set up that is simple to learn and use!
Aplos was designed by a CPA/Executive Pastor so each section of the software was made with a non-accountant in mind so it's simple to manage you organization's accounting even if you don't have any accounting experience!
 See my review on the user-friendly fund accounting software: Aplos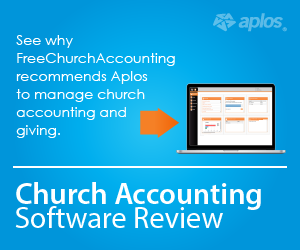 Stay up to date on nonprofit and church accounting news! Sign up for my free monthly newsletter and receive tips, news, free spreadsheets AND a special thank you discount code for the Church Accounting Package: 
Topics Covered on this Site:
This site is a great place to start for those with little or no accounting knowledge and for those with experience who may want a refresher as finance laws continue to change.

Whatever experience you have, the congregation expects the treasurer to "take care" of the finances of the church. But many churches are not aware of the complex finance issues, what actions need to occur to be compliant and documentation needed to lessen liability for the church and protect its' congregation, pastor and staff.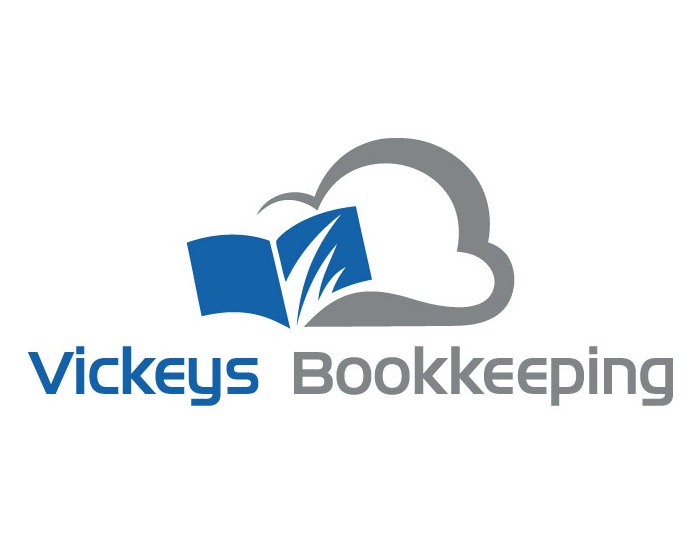 Need help setting up an effective accounting system!
Overwhelmed with the accounting part of your ministry?
Have a high turnover of individuals keeping the books?
Hiring a full time in-house bookkeeper not affordable or even a possibility at this time?
Let us take care of your books! 
We can also set up an accounting system and train you how to use!

Built From Real Experience:
Many years ago to assist our church's secretary, I created easy to use accounting workbooks and spreadsheets. She loved them and told several other church secretaries and treasurers about them. They got hold of me and asked if they could use them for their churches. They also wanted additional pointers on setting up a good accounting system and other church accounting issues.

Even with a seasoned accounting background...church and nonprofit accounting was different from commercial accounting and sadly there wasn't much on the internet about the basics of church accounting at that time. And this site was born. It gave me an opportunity to share my knowledge of church and nonprofit accounting, resources, tools and my accounting spreadsheets as well. Who would have ever imagined this site would expand to include a 1500 pages, reader posts and comments!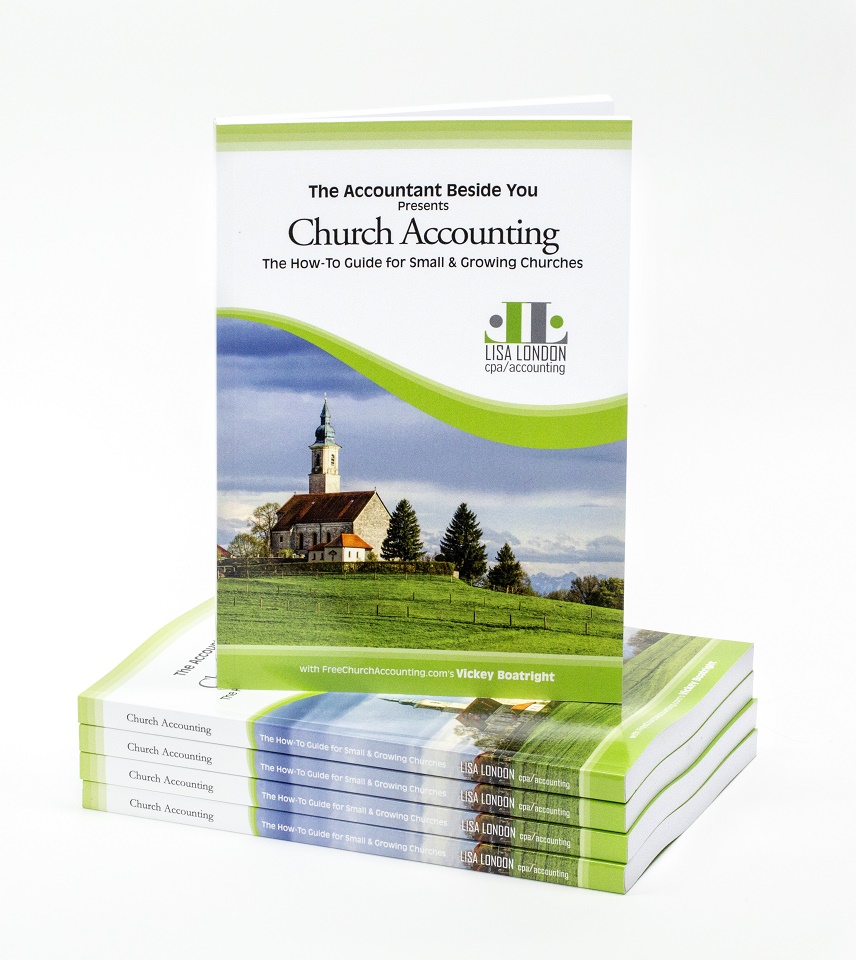 This soft cover book covers a vast area of church and minister tax issues such as:
Policy and Procedure Guidelines
Internal Controls
Building a Chart of Accounts for a Church
Receiving and Recording Contributions
Church Payroll
Ministers and the IRS
Church By-Laws
Free Accounting Software: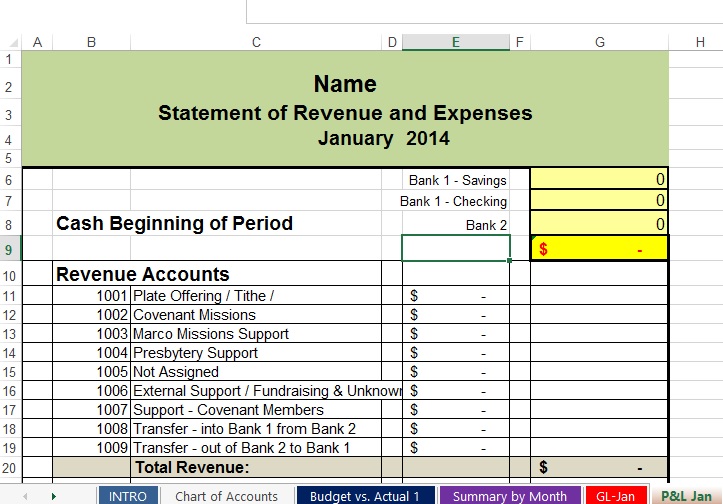 The nonprofit accounting spreadsheets offered free on this site are easy to use and work well for small or start up churches or nonprofits. However, please be aware that they are they are a single entry bookkeeping system (see the difference between single and double entry systems), they cannot track your assets and liabilities and cannot generate a balance sheet. A Balance Sheet has to be created separately using a template like the one found at the bottom of this page: Balance Sheet Example

If you have a large chart of accounts, need to track assets and liabilities, have multiple funds to track, please consider using a full bodied double entry accounting system built especially for churches such as Aplos. See my Aplos review!

In the past, there was a requirement in place to sign up for this site's free newsletter, so you could be notified of any errors or updates to the accounting workbooks. That is not the case now and there is a direct link to download the free accounting spreadsheets on this page:

Free Accounting Spreadsheets


Highly Recommended Resource:

Feb 21, 20 11:54 AM

Church payroll mistakes can be costly. Learn what to do and what not to do!

Feb 05, 20 09:16 PM

if a pastor opts out of FICA, what does the church check on kind of filer on the W3. The church doesn't file a 941 or 944 report because there is nothing

Feb 05, 20 09:03 PM

The company pays for our Pastor's retirement plan, do I check the retirement box or leave blank?