Aplos Software Review
Why I use Aplos Software and recommend it for my clients...
I have set my own church up in Aplos software and it is the first accounting software I recommend for my church clients.
If you are looking for an easy to use, affordable accounting software for your church, I don't hesitate to recommend Aplos.

You can try out their church accounting software and get a discount by using my  promo code: FCA30FOR12. Here are just some of the great reasons why I love Aplos software.

Simple and Easy to Use...
Two things many small churches and nonprofits have in common is volunteer help and frequent turnovers. So it is imperative to have an accounting system set up that is simple to learn and use! Even if you have paid staff that has been with you forever simple and efficient is the key when it comes to your accounting.
Aplos is a web-based software so there is nothing to install! This also makes it accessible from anywhere with an internet connection. It is automatically backed up every night, so no more worries about losing everything in the event of a computer crash.
Their Outstanding Support Team...
In my humble opinion, the best feature of Aplos is their support. It is the best I have had the pleasure of dealing with. Their staff is super nice and supportive! They will treat you like you are their one and only customer by taking time with all your questions.

In the software itself on every screen in the bottom right corner there is an orange box with a question mark in it that you can click and ask any question and someone will respond back usually within 24 hours. The Aplos support team offers helpful videos you can watch to walk you through tasks set-by-step.

They also have support by phone or email to help you if you have any questions when setting everything up and getting started. And the best part is, you get all of this support for free! Unlike some other accounting software that charge an arm and a leg for their support...Aplos support is absolutely free.
Note: Aplos support is now charging a fee to upload your QuickBook and other "history" files AND make sure it loads up correctly. Give them a call and they will give you the details on that additional service.
Alternative to Quickbooks...
If you are bogged down in Quickbooks and need something simpler, Aplos support can import your QuickBook file and set up your chart of accounts in a snap! You can use the chart of account wizard or add them individually in the account section. You will love the change because Aplos software makes it simple to track your designated funds like your Missions or Building fund. You can also easily create annual giving statements.
Free Webinar!
5 Indicators To Understanding Your Organization's Financial Health
Tuesday, March 13, 2018
Duration: 1 hour
10am PST (11 am MST | 12pm CST | 1 pm EST)
To make good decisions for a nonprofit or church, leaders and board members not only need accurate, up-to-date, and clear financial information, but also the ability to interpret and use this data to inform decision making. The first step is a understanding of baseline financial indicators and health. This webinar explores the fundamentals of nonprofit finance so that nonprofit leaders, managers, and board members feel better equipped to interpret financial statements and assess their organizations' financial position.
In this webinar you will:
Examine to evaluate your assets and liabilities for overall value
Understand your fund balances and if you have funds you need to operate
Determine if your spending is on healthy and plan for future large expenses
Understand how much money to keep on hand to keep your doors oven
Evaluate the financial efficiency of your programs or campaign

How to use Aplos software for your organization...
One of the great things about Aplos software is that it is made specifically for nonprofits and churches. Aplos was designed by a CPA/Executive Pastor so each section of the software was made with a non-accountant in mind, so it's simple to manage your organization's accounting even if you don't have any accounting experience!



Getting Set Up in Aplos...
Enter starting balances with ease.
Set up funds to track designated funds with one click of a button. Tip: Stick with the concept of KISS (keep it super simple) for you AND the next person - don't set up 25 funds!
Set up a budget and compare your budget to actual amounts throughout the year.
Bank reconciliations are quick and easy.
Transfers between funds is a snap with this software.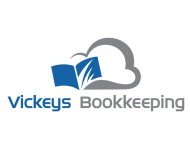 Need help setting up an effective accounting system!
Overwhelmed with the accounting part of your ministry?
Have a high turnover of individuals keeping the books?
Hiring a full time in-house bookkeeper not affordable or even a possibility at this time?
Let us take care of your books! 
We can also set up an accounting system and train you how to use!

Entering Data in Aplos...
Aplos software is set up like a check register so entering transactions is just like entering payments and deposits in your checkbook. You can also import your transactions through the bank integration module.
Use the "Tag" function to tag things you would like to track such as Specific Fundraisers, Vacation Bible School, Women's Retreat, Youth Events, etc. You will be able to pull up reports and see exactly how much money that fundraiser brought in or how much that small registration fee offset the cost of that Women's Retreat. It is a lot easier than setting up a bunch of funds :) Also...I am tracking our guest speakers with 1099 tags, so I can send accurate 1099s each year. The possibilities for this one feature are endless.
Enabling 990 Tags will add a required field to all transaction-entry screens of Aplos. This allows you to tag each transaction with the appropriate 990 classification, so that you can quickly generate the 990 Report from the Reports section.
Manage your Donations in Aplos...
The Aplos Donation Module is my favorite part of Aplos! It is easier to enter donations in Aplos than any other software I have ever used AND it can be rolled right into your accounting ...so no more putting those donations in twice!
You can use Aplos Donations to:

Create contribution receipts and annual statements for your donors.
Automatically track donations in the accounting.
Having an online donation section will make it easier for your donors to give securely online plus save time as those donations are automatically integrated into Aplos accounting. See more on the online giving!

Good for churches with multiple entities...
Those of you in charge or over several churches or nonprofits should check out the Oversight account with Aplos. You can set up a default chart of accounts, track user activity, run multiple reports, and much more with an Oversight account.

Aplos Pricing and Features...
Aplos Standard Accounting - $25/mo - which includes, fund accounting, budgeting, bank integration, bank reconciliation, check printing, accounts receivable, accounts payable, reporting, and online giving. For a full list of features go to the Aplos pricing page.

Most churches and nonprofits also include Aplos Contributions Management for $15 per month more to track the giving and donations and create contributions statements. 

Use promo code: "FCA30FOR12" to get 30% off Starter or Standard for 12 months!
 And if you are a new church plant you can get the first 6 months free!

You can also take it for a test drive for 15 days before you make up your mind :) Click here to start your free trial.

Aplos Tips and Comments...
Aplos software is very user-friendly and as I stated earlier in this article...it my software of choice for my own church!
However...since starting my own bookkeeping business...I have discovered that there is some errors that I see in almost every new client I get in Aplos.
I want to share them with you and hopefully keep you from "messing up" your file and paying someone like me to clean it up =)
The WePay Error...
The first thing I do when I get a new monthly bookkeeping client using Aplos and WePay (an online giving application that integrates with Aplos)..is to generate a Statement of Financial Position (Balance Sheet). 
If I see a large WePay balance ... I know they have not correctly assigned the WePay deposits that rolled into their bank accounts. This error makes for HOURS of clean up on my end and overstates the organization's (donations) income sometimes by thousands of dollars!
As all of you know that use WePay, Aplos software automatically assigns the donor their full donation and records the online donation in your accounting. Then at an appointed time by the Aplos user...WePay deposits the accumulated donations (usually weekly) into the organization's bank account.
Here is where most Aplos users "mess up" =)
They assign those deposits to an income statement such as "Tithes and Offerings". That is incorrect. Those donations have already been assign to the appropriate income account...so you end up "double" reporting those donations.
You also do not zero out the WePay account ... which is what WePay does on a weekly basis...if set up that way.
So to "correctly" handle those bank deposits from WePay...assign the WEPay account (see image above) to zero out that account. 
Aplos Tags
Fund accounting confuses many churches and nonprofits. Especially when it comes to figuring out what to set up as a fund and what not to. See this Church Fund Accounting Guide for some tips on when to build a fund.
In my bookkeeping business, I've seen churches that didn't use funds at all (they just opened up a new bank account when they need to keep designated money separated-one church had 9 bank accounts when they hired me) and I have seen some that had too many funds (one had over 100 funds!). 
Aplos software has a great alternative to creating a fund for everything you want to track. They call it TAGS.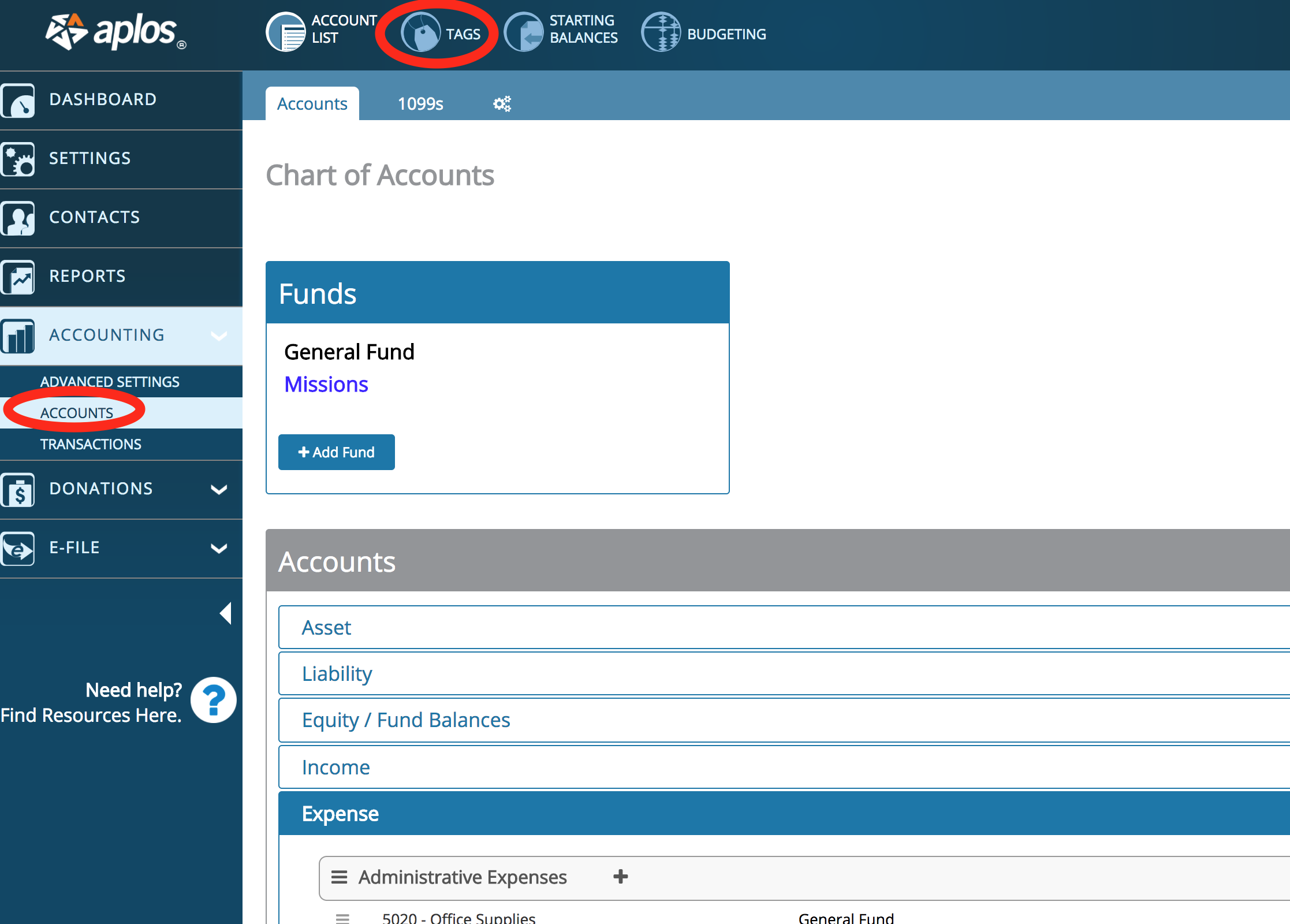 In Aplos software, click on Accounts in the Navigation column then click on the TAGS icon at the top (see image above).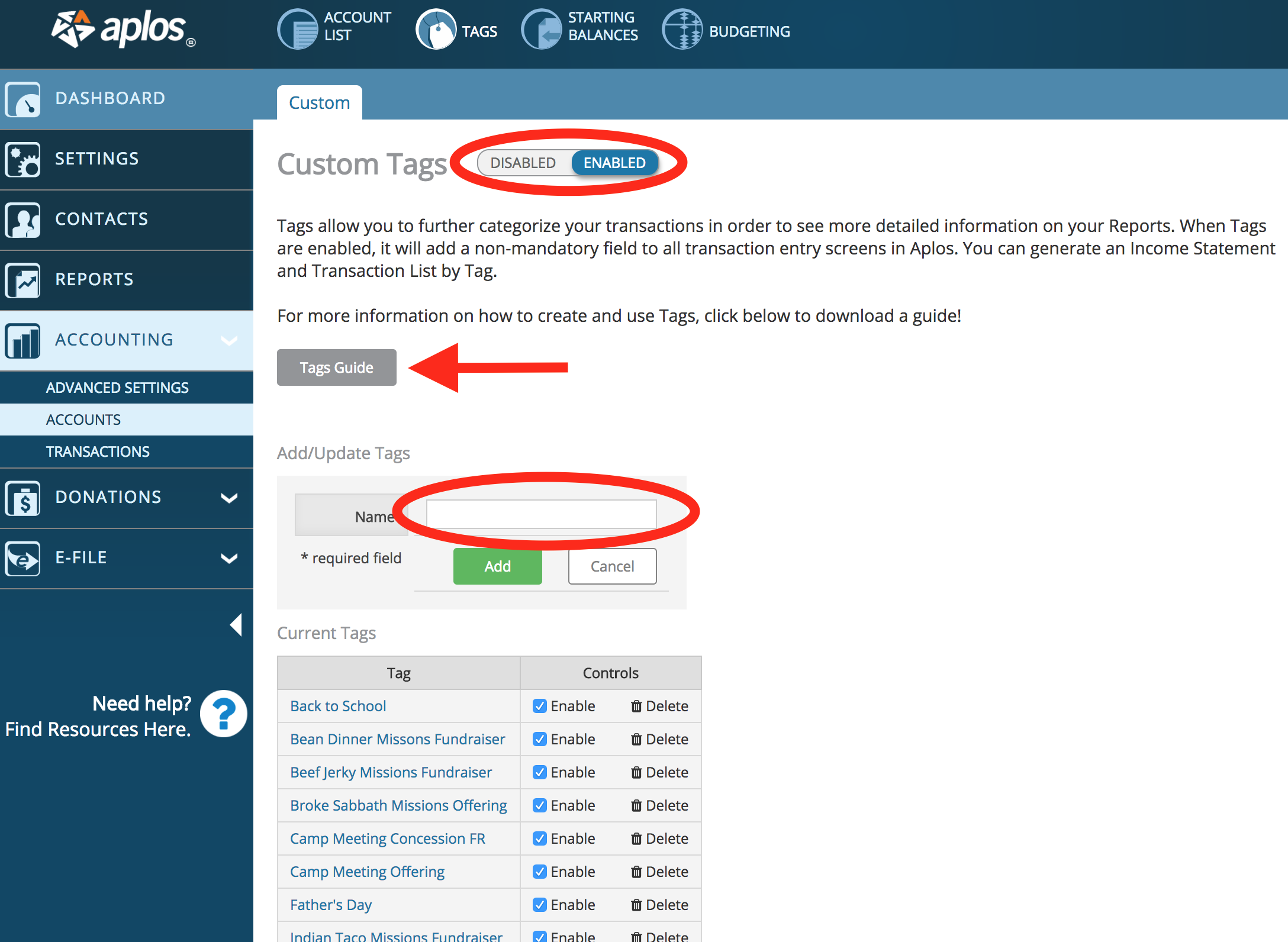 Make sure Custom Tags is enabled (see image above).  Name your Tag and read the Tag Guide on how to use.
Some examples of ways to use tags is:
track how much a fundraiser netted
track income and expenses for different ministries such as Youth, Women, and Men
track programs and events such as Easter, Mother's Day, Back to School, Christmas, etc.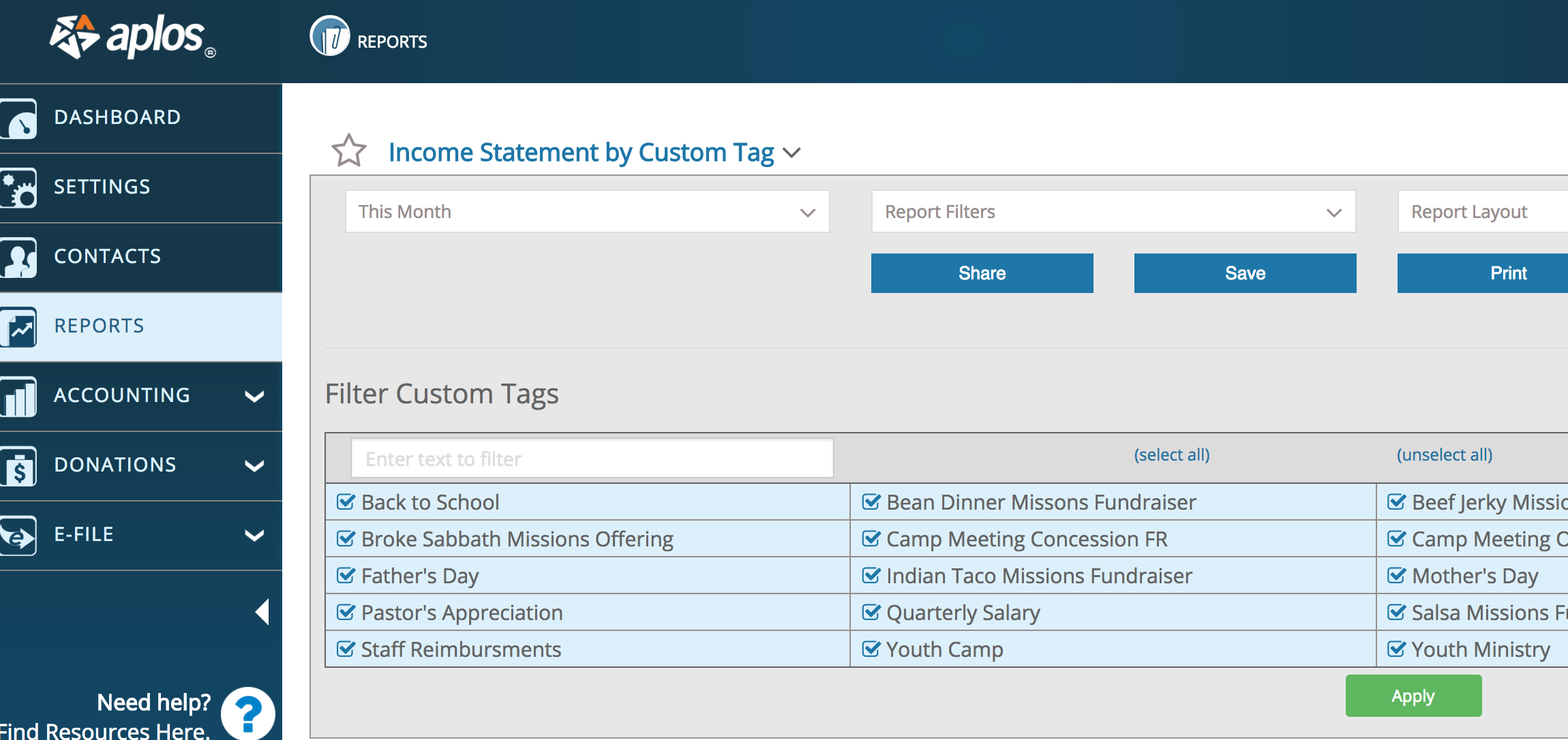 Tag your income and expenses and then run an Income Statement by Custom tag!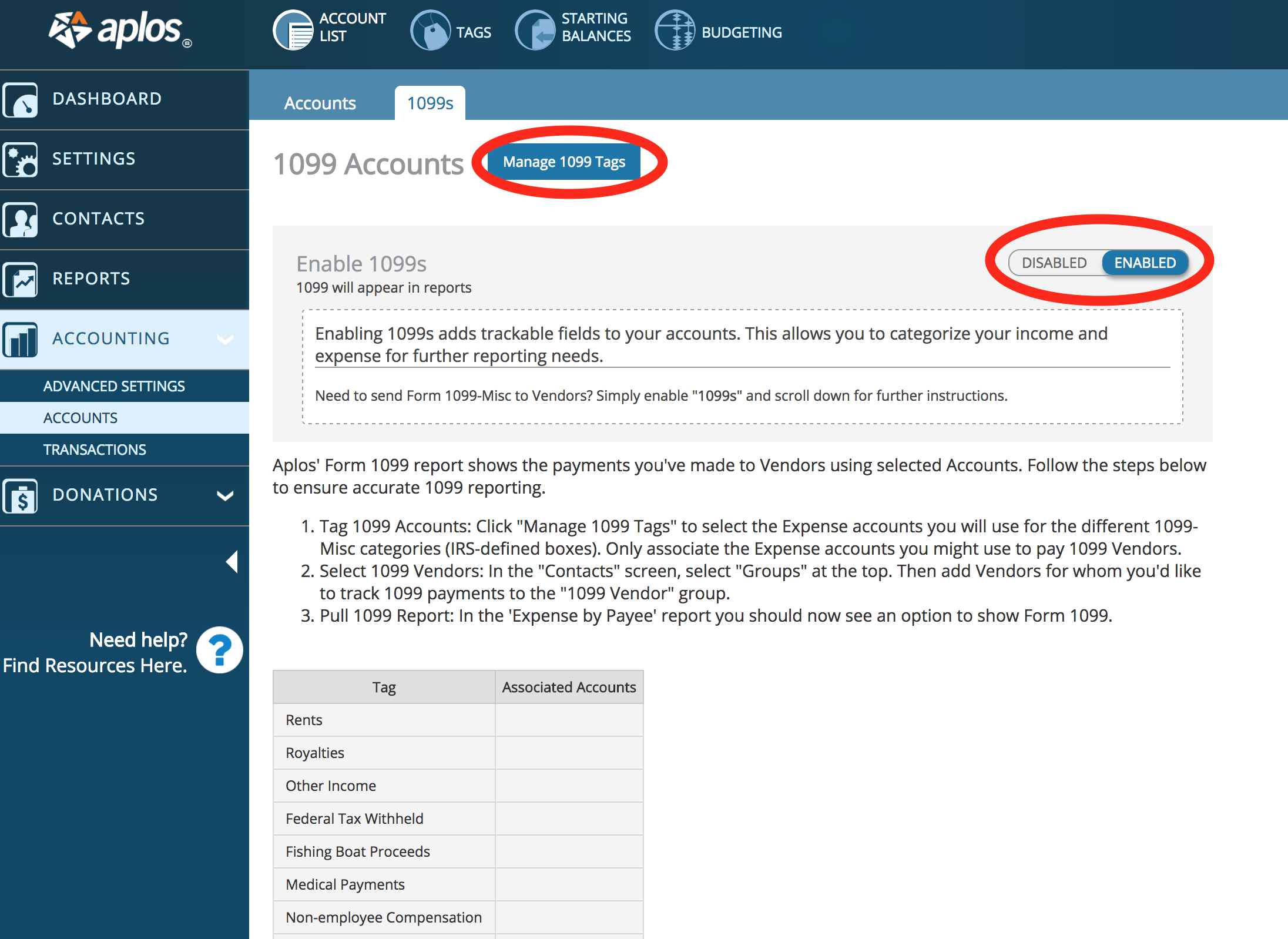 You can also tag expense accounts and vendors for 1099s. You can turn on this free module included in Aplos accounting by clicking on "Accounts" in the Navigation column. It opens in the Chart of Accounts. In the lighter blue top bar, you will see two tabs. Accounts and 1099s. Click on and enable the 1099s and follow the simple instructions.
Run a Transaction Detail Report Every Month!
I run a Transaction Detail report every month for all of my Aplos clients! I then ask my clients to look over that report carefully...it is one of the best tools I have found for catching accounting errors and...
it is a must have when you go attend a board meeting and Bro. Smith wants to know why a particular expense account is higher than usual =)
Here is how to generate that very important report...
Go to Accounting ---> Reports ----> Detail/Research Reports (see image above). Then click on the Transaction List by Account.
Now customize it. Click on Report Filters ...then Accounts. I either click "unselect all" and choose the accounts I want details on...or I leave all of the accounts selected ...but most of the time I unclick all of the assets, liabilities, and equity (fund) accounts and just run it for all of the income and expense accounts.
Then click the green APPLY button.
Review this report carefully. Look under each account and make sure all of the transactions belong there AND look for negative numbers. When I see a negative number I usually find an expense accidentally assigned to an income account or visa versa...or it could be a refund applied to an expense account or something similar ...so not every negative number is an error.
Again...this should be a report you run every month!
Use it to look for errors and for those difficult questions that always get asked in Board meetings =)
New Aplos Feature in Bank Integration!
Love it or hate it...Aplos has a new feature in their bank integration that you better pay attention to!
My staff and I found out the hard way ...that when you "CHANGE ACCOUNT" ...it doesn't change the REGISTER ACCOUNT" See image above.
We ended up with hours of clean up when transactions we thought we were importing into one register appeared in another register!
We were thankful Aplos made it easy to "move" all of those transactions into the correct register (see image below)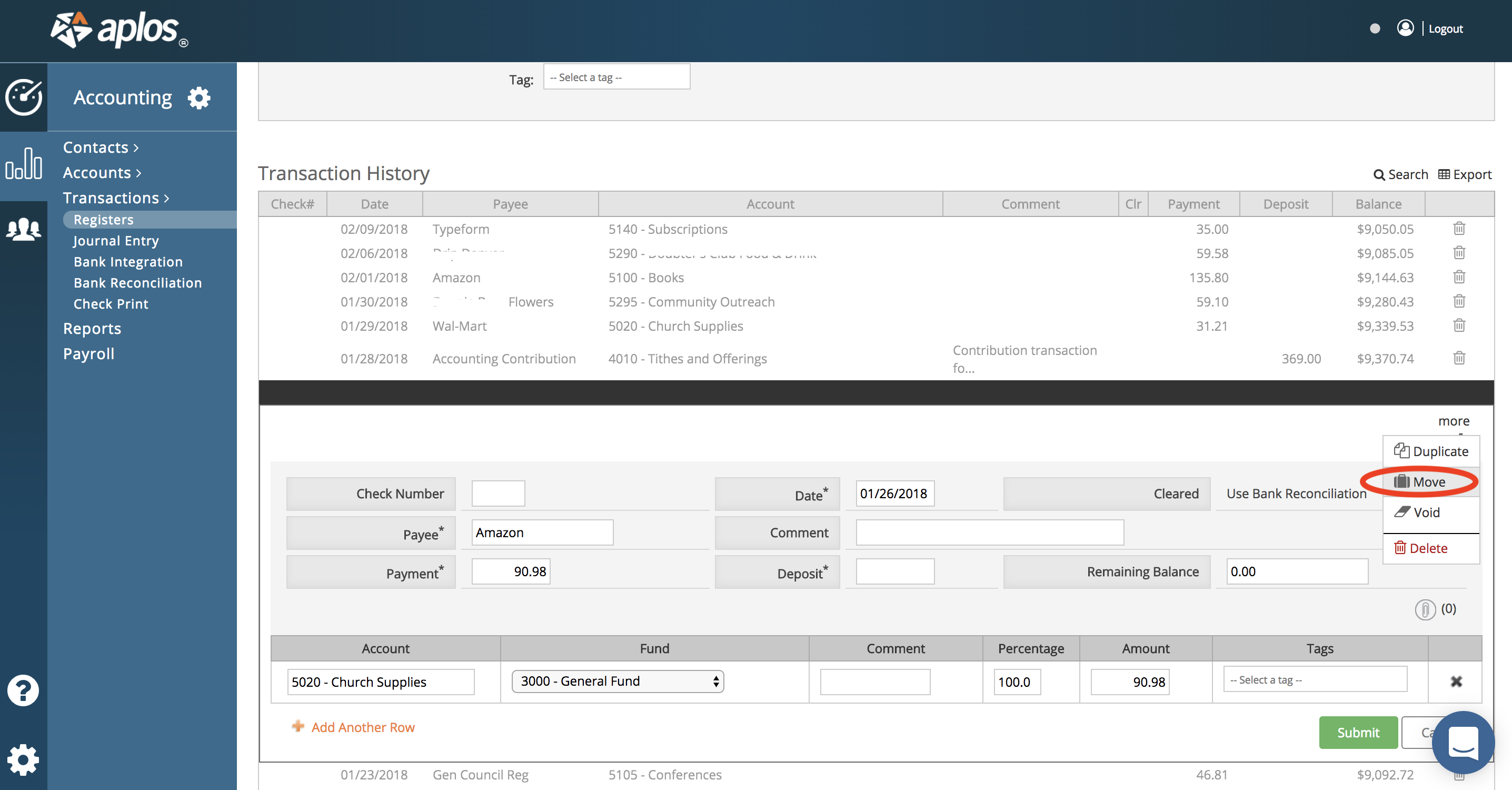 I contacted Aplos support regarding the new feature and they told me that it was requested by their users that had multiple employee credit cards and wanted the choice to roll all of the transactions into one main credit card register. I think that will be a useful feature.
BUT don't make the mistake we did when it first introduced (we missed the announcement). 
ALWAYS make sure you are in the right register BEFORE you import any transactions =)
---
Bookmark this page and check back often as I plan on adding more tips later =)
In the meantime, add your own tips, comments and questions regarding using Aplos software for your church or nonprofit below...
---
Aplos Questions, Comments, and Tips
Do you have a question, comment, or tip regarding using Aplos for a church or nonoprofit? Share it!
Archive of Church Accounting Software Questions and Comments
Click below to see contributions from other visitors to this page...

(Click on the read or post comment on the bottom of the question to see the answers and/or add your own comments or answers!)
can access to donations be made seperate from the book keeping part?

We like having the people who count the money to be different than the ones who write the checks. We are trying to find a way for each person to access …
Payroll and Tax returns Not rated yet
I don't see anything about payroll and tax returns. I use QuickBooks and they take care of all that.
The comments above are for general information purposes only and do not constitute legal or other professional advice on any subject matter. See full disclaimer.
What people are saying...
 APLOS software is terrific!!  We've been using it for about 2 - 2 1/2 years and being the non accounting person that I am have had great success and some of the best  customer service. 
They are growing and adding new features all the time while keeping it very affordable . 

I would highly recommend this church accounting software.
-Lorraine
Finally, someone has done what Intuit has failed to do for years!!!
You built an intuitive, web-based, accounting system for non-profits that does TRUE fund accounting!
- John
I just entered my first batch of donations this morning and it took me about 1/3 the time as it did in QuickBooks! I'm thrilled!
- Samantha
Disclosure: I am an affiliate of Aplos. I personally use their product and am very satisfied with it. If you like my site and decide that Aplos is a good fit for your organization, please use the "FCA30for12" discount code and then I will receive a commission and be able to keep this site going. BUT, if you don't want to, just don't use the code and I will receive no payment:) Either way...this is a very good product that is worth trying out with the free trial! See what others are saying about Aplos above.