Housing Allowance/Clergy Tax Package 

A housing allowance is the greatest tax benefit available to ministers. It is also one of the least understood.
Section 107 of the Internal Revenue Code allows "ministers of the gospel" to exclude some or all of their ministerial income designated by their church as a housing allowance from income for federal income tax purposes.
This section of the Internal Revenue Code has been in existence for over 50 years, but there are still some ministers and churches that have never heard of this great tax benefit for ministers.
The Housing Allowance Package includes an ebook to help you understand more about a housing allowance, how to set one up, and how to maintain it.
Plus the package includes a workbook for the minister that will aid in keeping track of their eligible housing expenses.
How often should a housing allowance form be updated?

Can I live in parsonage and take housing allowance on 2nd property?
6 more Questions and Answers from the Housing Allowance section of this site.

plus...
Sample of a Housing Allowance Resolution
Housing Allowance Estimate Worksheet
Housing Allowance Notification
| | |
| --- | --- |
| | plus 2 Free Bonuses! |
(A spreadsheet to help you track housing expenses)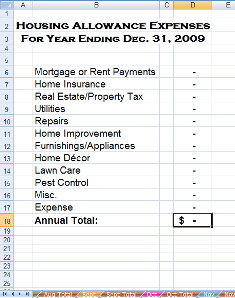 All the monthly data will automatically carry over to the annual worksheet, so come tax time you will have all your data totaled and ready for the church treasurer and/or tax professional.
Note: Must have MS Excel, Numbers, or free spreadsheet software from openoffice.org installed on your computer to download these two spreadsheets!
and
Clergy (Minister) Tax Guide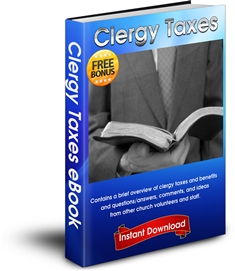 This 16-page eBook contains:
Determining who is a minister for tax purposes
Special tax treatment for ministers
Paying Social Security and Medicare taxes under the SECA system
Opting out of social security
Misclassification of ministers
plus...
Top 10 Clergy Tax Q&A

Self-Employment Tax Matched
Employee or Nonemployee
Are we required to pay the Pastor a salary?
Can the ministry pay for clothing that is worn to preach?
6 more Q&As regarding ministers taxes from this site.
Get the Housing Allowance eBook, HA Worksheet, and Clergy (Minister) Tax Guide...  
for only $17.95

Includes: 2 Downloadable eBooks (PDF) and 1 Downloadable Workbook (Excel File) - $17.95
---
Your Accounting Package purchase is 100% safe and secure - and 100% risk-free with SendOwl and PayPal.
Your order will be processed in seconds - and then you can download the ebooks and spreadsheets immediately from the web.
You can start reading them today!
Note: If you do not receive an immediate download link with your purchase or if you are having problems with the checkout process, please review this FAQ page or contact me.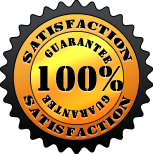 These ebooks are in PDF format so you will be able to read it on a Windows PC, an Apple Mac, an iPad, a tablet, or some smart phones by using reader software such as Adobe Acrobat which you can download here or your app store for free.
The spreadsheets are in an Excel file, so you must have MS Excel, Numbers, or other similar spreadsheet applications installed on your pc or tablet in order to open the spreadsheets. You can also download free spreadsheet application software from openoffice.org

My Personal Guarantee:
All eBook Packages comes with a No-Questions-Asked-30 Day Guarantee: If you're not satisfied with this eBook, just contact me. within 30 days of your date of purchase - and I'll issue your 100% refund ASAP.