Affordable Healthcare Act (ACA)

Your HRA May Be Illegal Now!

Thanks to mandates in the Affordable Healthcare Act, churches and nonprofit organizations can be fined a $100 per day if your church has been reimbursing the pastor or other church employees for their healthcare insurance premiums!

This mandate became enforceable July 1st 2015, so if you are currently reimbursing your employees health care premiums, there is something you can do immediately to avoid that outrageous penalty.

First of all ... there is an exception to this mandate. According to IRS Notice 2013-54, "The market reforms do not apply to a group health plan that has fewer than two participants who are current employees on the first day of the plan year." So if you only have one employee such as the pastor or church secretary and are reimbursing them for their healthcare insurance premiums under an eligible HRA or other legal method, you are not subject to the $100-per-day penalty.

However, keep in mind that once your church or nonprofit organization has two or more employees ... you will no longer be able to use that reimbursement arrangement for the pastor or any other employee.

Affordable healthcare act mandate work around...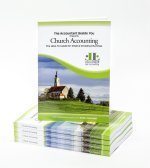 This How To Book for Churches is packed full of tips for: 
setting up internal controls,
setting up an effective fund accounting system,
handling and tracking contributions,
setting up compensations for a minister,
handling a payroll for a church
preparing nonprofit financial statements,
and much more.
Churches and nonprofits that have more than one employee and are not in a bona fide group plan, but want to continue to help pay insurance costs need to change the way this is done after June 30, 2015, to avoid penalties.
Increasing salaries to cover health care premiums is the technique that can be used – BUT without requiring that the salary increase be used only for that purpose. 
The IRS states in Notice 2015-17, "that as if the employer if "does not condition the payment of additional compensation on the purchase of health coverage", it will not be considered a group health plan as described in IRS Notice 2013-54.  In other words, you can give a raise to your employees to help offset the coverage of health insurance, but you CANNOT designate the additional compensation for health coverage purposes (excerpt for StartChurch article: Are You Ready for the 7-1 Deadline?)
Last of all, with all of these ACA changes, it would be a good idea to contact a professional employee benefits consultant and have them evaluate your current benefits.
I can also recommend attending a StartChurch conference. Raul Rivera is an expert in regards to church compliance and legal matters.

Administrative Topics: